Photo Essay Lesson Plans Elementary
Betsy Sergeant
Abraham Lincoln High School
San Francisco, Calif.
Lesson Title: Making Photo Essays Easy
Overview and Rationale:
This lesson is divided into two parts. Part I is a creative exercise to get students to generate ideas about what makes a good story and a photograph. Part II requires student to then tell a story through photographs, or to create a photo essay.
Goals for understanding:
Students will recognize the qualities of a strong photograph.
Students will tell a story through powerful photographs.
Resources and Materials:
Newspapers and/or magazines
Old photographs
Cameras
Poster board or PowerPoint
Overview and Timeline:
This two-part lesson is designed so that each part could stand on its own. Allotted time will depend on camera availability and class time. Suggested time is 4-5 50 minute class periods.
Activities
Part I

Day 1

Activity 1 (10 minutes):

Before you begin with photos, take the time to help students remember the elements of good story in literature, as well as in journalism. Strong stories include the following elements:

Exposition
Setting
Plot
Theme
Characters
Protagonist
Antagonist
Rising Action
Climax
Resolution
Irony
Foreshadowing
Flashback

Activity 2 (30-45 minutes):

Using already published material, have groups of 4 students collect 10 or so photos and assemble them into a story. The results may be silly or serious; the object here is to have students create the story from photos they already have. The students will fix the photos to a poster board according to the story they created.

Activity 3 (15 minutes):

Their classmates will then try to figure out what story the photos are telling. The group will then share the story they came up with and they will discuss why they chose the photos they did. Save the presented stories for the next session.

Day 2

Activity 1 (30 minutes):

Students identify the strongest photos in each story from previous day. In their groups they will generate a list of what they believe makes a good photo. This should get students thinking about:

angles
Perspective
Composition
framing
lighting
emotions
details

Student will also discuss the following:

How they were limited by working with photos that already exist?
What photos had they wished were available?
Was their story successful?
Did it catch attention? Why or why not?
Did the photos represent what was really happening in their stories?

Activity 2 (20 minutes)

Students will then generate lists of what they think constitutes a good Selection or series of photos. This will be the spring board for telling them about effective photo essay elements, such as:

varied perspectives
varied distances
angles
changes in lighting
Elements of the story that are not obvious to the reader.
Focusing on different people involved
Rule of thirds
Variety of sizes and shapes of photos
Dominant photographs

Find some examples of photo essays to share with the class. One example is:http://www.motherjones.com/
news/feature/2002/37/ma_111_01.html
To find others, use Google to search for "photo essays". Be sure to point out examples of the above topics.

PART II

Day 3

Activity 1 (one class period and homework)

Here begins the photo essay assignment. Students will choose a story to cover using only photos. They must produce at least 10 photos, and the only restrictions are that they cannot use ANY words to tell a story. (You can add cut-lines to the assignment later.) Depending on availability of cameras, you may choose to have teams of students. Give them a deadline, and specify how you want the photos presented. Some ideas include:
Have students compile photos in a PowerPoint slideshow
Have students fix photos to poster board

Day 4

Activity 1

Let students display their photo essays around the room. Let the class circulate to try to figure out the story for each collection of photographs. Students will write brief paragraphs about each photo essay. They will also write questions they feel are left unanswered by the photo essay. Allow the class time to share their findings.

Day 5

Activity 1

Each group will discuss their photo essay with the class. Students should be prepared to explain their choices and motivations behind the photos included. They will also note questions and feed back from the class.

Follow-up lessons:
Assessment: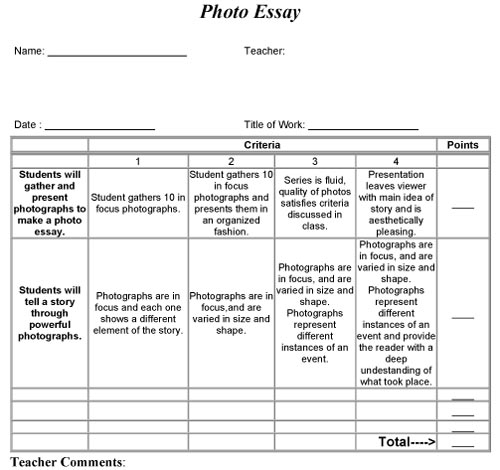 I love interesting photos almost as much as I love a good lab. I know the labs teach more but there is some really unexplored teaching potential in photography. This is especially true with the cheaper digital equipment that is available today.
One of my teaching friends contacted the big box stores (Target, Best Buy, Wal Mart and Shopko) and asked them to donate some older cheaper cameras that she could use with her students. She now has 20 really nice easy to point and shoot cameras. What she can do with this equipment is endless. She has decided to start with location specific photo essays.
In this technique you select a specific location and photograph is over time. You can take a photo each day, each week, each month or any variation of time. What you get is a view of that location through the seasons or all sorts of different weather. I love these essays where one student selects a tree. That tree does go through some amazing changes over time. These changes are not as obvious to kids as we would think. What changes and what stays the same makes for an interesting observation.
Likewise we overlook some simple things in our day to day observations. UNICEF produces a photo essay on children and water.
http://www.unicef.org/photoessays/31695.html
Having kids take on a scientific phenomenon like clouds and use photographs to show what they know is powerful. I think that a scientific problem is a better subject. Water in the community, flooding, trash, weeds, land use, traffic flow, or energy efficiency could all be great topics. In my city we just had a huge 4th of July celebration in a local park. Over 50,000 people left behind piles of trash. One student with a camera would have seen that event differently with before, during and after photos. I am guessing that this student could make some amazing suggestions of where to place trash receptacles to prevent the problem next year. This observation and evidence technique could work for trash around the school or in any area of the city. Time magazine ran an online photo essay on trash in Italy a while back. It is a good example of illustrating a problem with photos.
http://www.time.com/time/photogallery/0,29307,1702831,00.html
A host of student photo essays are archived at this site:
http://www.isep.org/students/photo_essays/student_photo_essays.asp
The Elementary Science Integration Project outlines everything you would want to know about photo essays on their site.
http://www.esiponline.org/classroom/foundations/writing/photoessays.html
I know that kids notice different things than adults in any environment. This is especially true in schools where most of the adults are very familiar with the halls and classrooms and students are often new. Handing your students a camera and asking them to document a day in the life of a student would make for some interesting beginning of the year ice breakers in any classroom. Being a science teacher I might give the students the challenge of taking photos of places where you see science happening, examples of chemistry, biology, earth science or even environmental issues.
Even a simple plant in the room can be the subject of a photo essay. These photos require descriptions or perhaps a narration so they would be excellent opportunities to collaborate with your Language Arts teacher or to infuse some good writing across the curriculum strategies in science. The best part of this digital revolution and the archive of photos is that you can have a plethora of photos for students to use in their online science notebooks, blogs or other products. One photo has a thousand uses. Happy hunting.